Both British and French governments also always viewed her as special, as shown by the arrangements they made to show her off at events like the Golden Jubilee fly-past: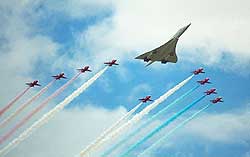 I always wanted to fly on her, but of course the cost was always a big barrier. However, the crash was a real wake-up call. For quite some time, nobody knew if she would ever get her airworthiness certificate back, and I was kicking myself that the chance may have gone forever.
When she started flying again, I knew I'd regret it for the rest of my life if I didn't do it, so it shot to the top of the priority list. Fortunately, my girlfriend of the time didn't take much persuasion, and we were able to get a good deal, so we decided to make it a once-in-a-lifetime treat and do it in style.
We thus booked Concorde to New York and combined it with a stay at the Waldorf-Astoria.
British Airways took advantage of the grounded period to do a complete refit. The most notable change was to the seats. Designed by Terence Conran and finished in dark blue handstitched Connolly leather, and costing £8000 each, they changed the interior look from this: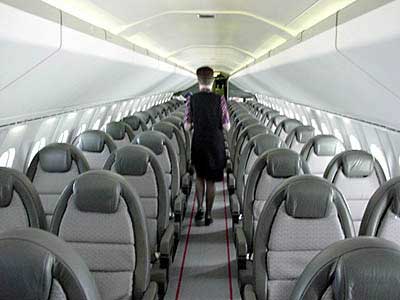 to this: